Happy Sunday all! Today's recipe – White Chocolate & Caramelized Pecan Pumpkin Bread – crunchy, chocolatey and absolutely delicious!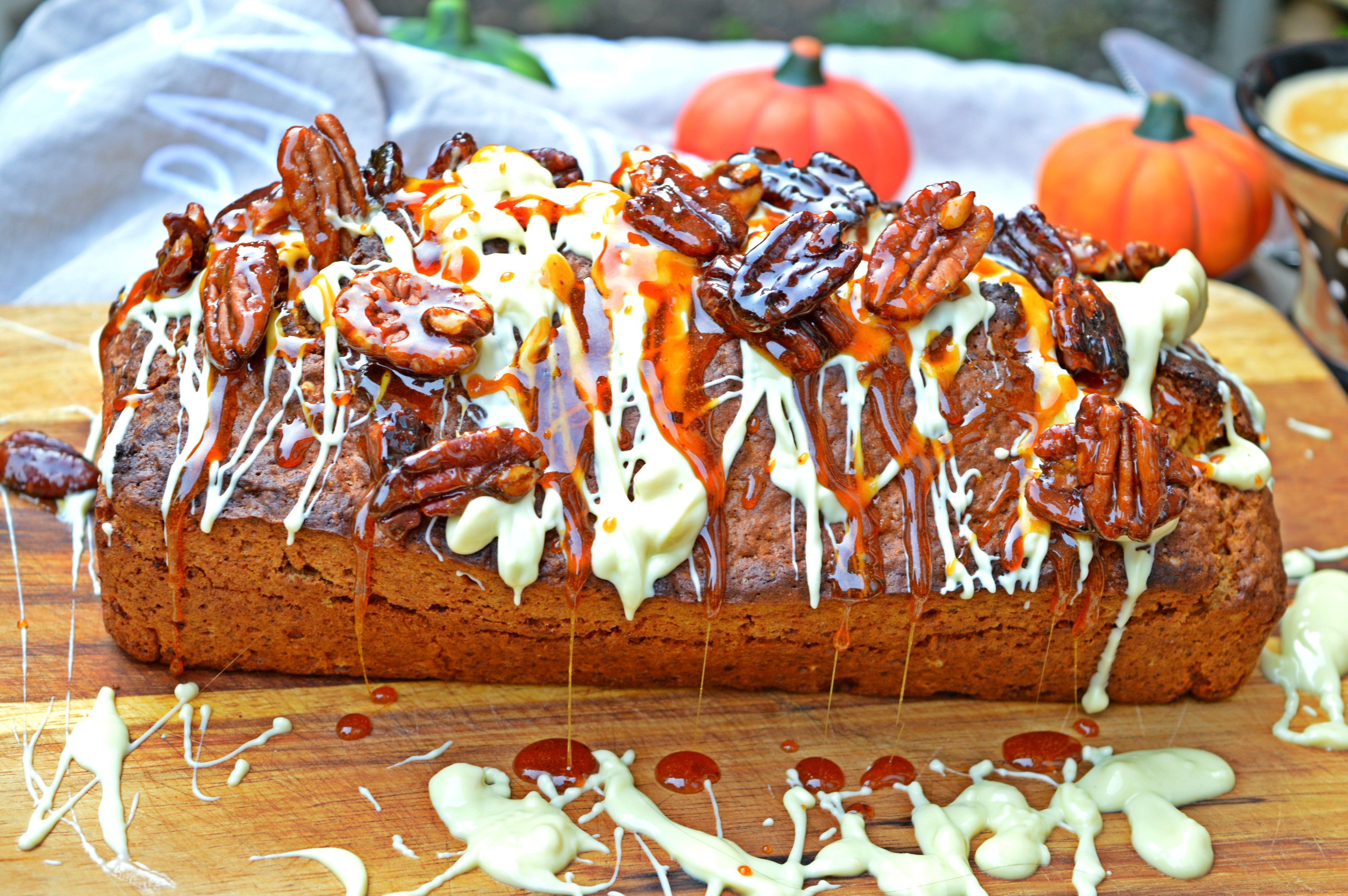 This Pumpkin Bread was definitely the best I've ever made and ever tried. My kids just loved it! But who wouldn't with all this white chocolate dripping and on top of that caramelized pecans! I am honestly drooling now! 🙂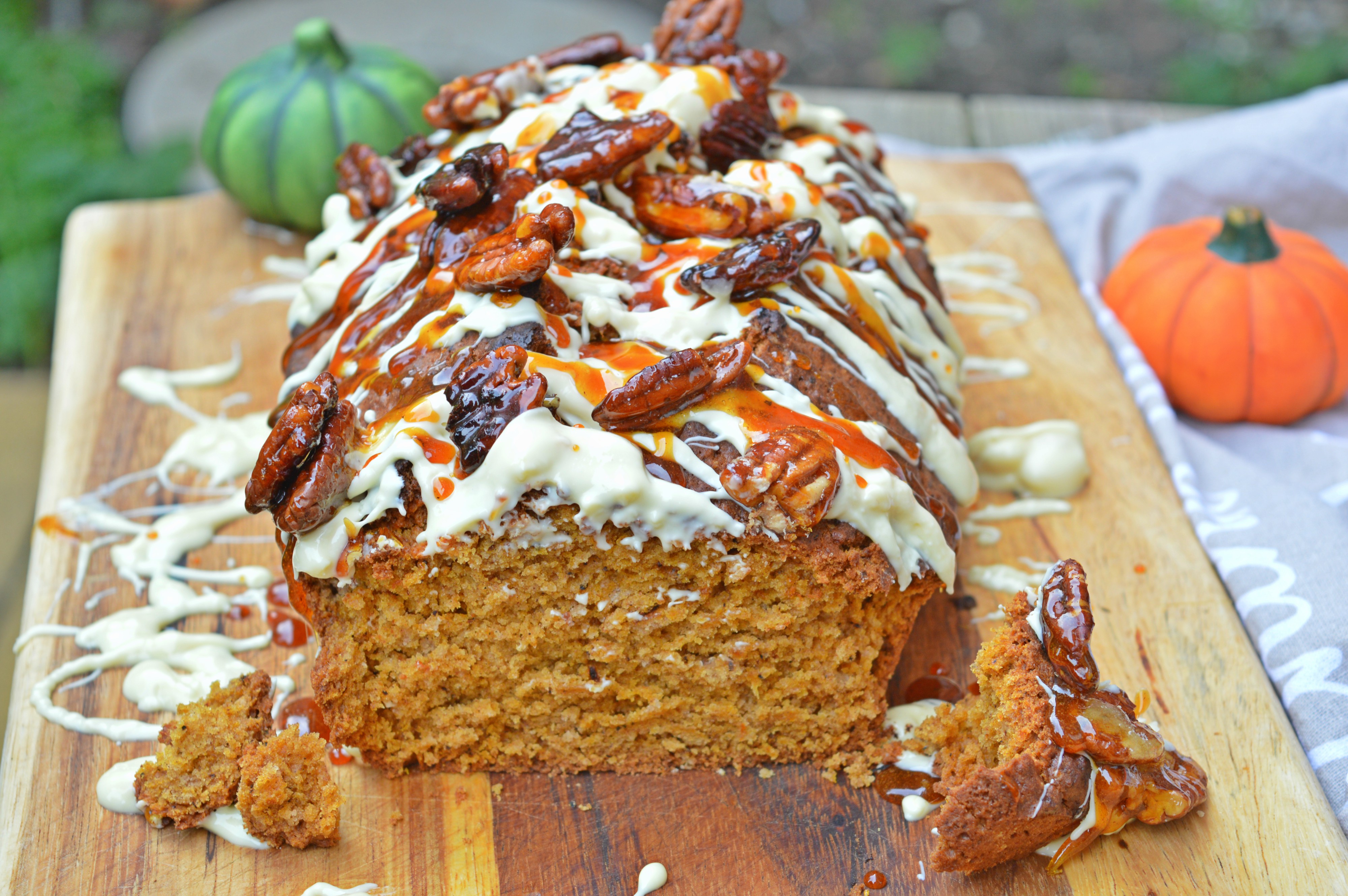 Also, with all of that Halloween madness and pumpkin carving in particular it is a great way to use up your pumpkin pulp. I hate wasting any food so I always save it and make something tasty. I actually have a big bowl of pumpkin pulp in the fridge at the moment due to the carving yesterday. 🙂 I am thinking of a thick pumpkin soup and a pumpkin chocolate cake I've been meaning to make for a long time 💡 . So fingers crossed and my plan works I'll hopefully share the recipe with you next week. 🙂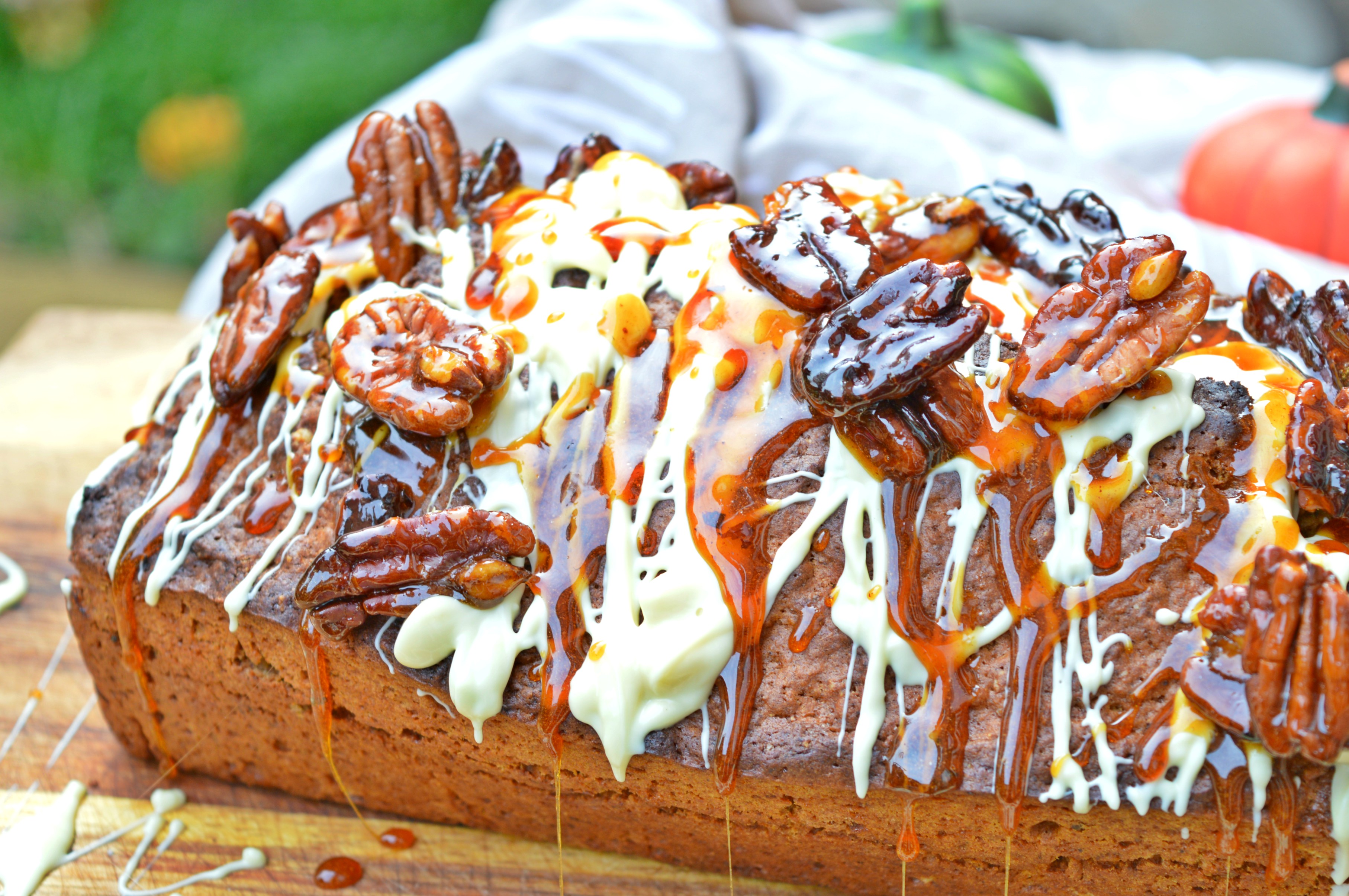 Now back to this moreish White Chocolate & Caramelized Pecans Pumpkin Bread. Apart from the white chocolate and pecan, I used pumpkin (obviously 🙂 ), flour, eggs and a bit of sugar. The recipe is really simple! I would normally have my pumpkin bread with a bit of butter but this one doesn't need any (hello, just look at the toppings) 🙂 Needless to say, it was gone quickly. We even had some leftovers for breakfast the next morning.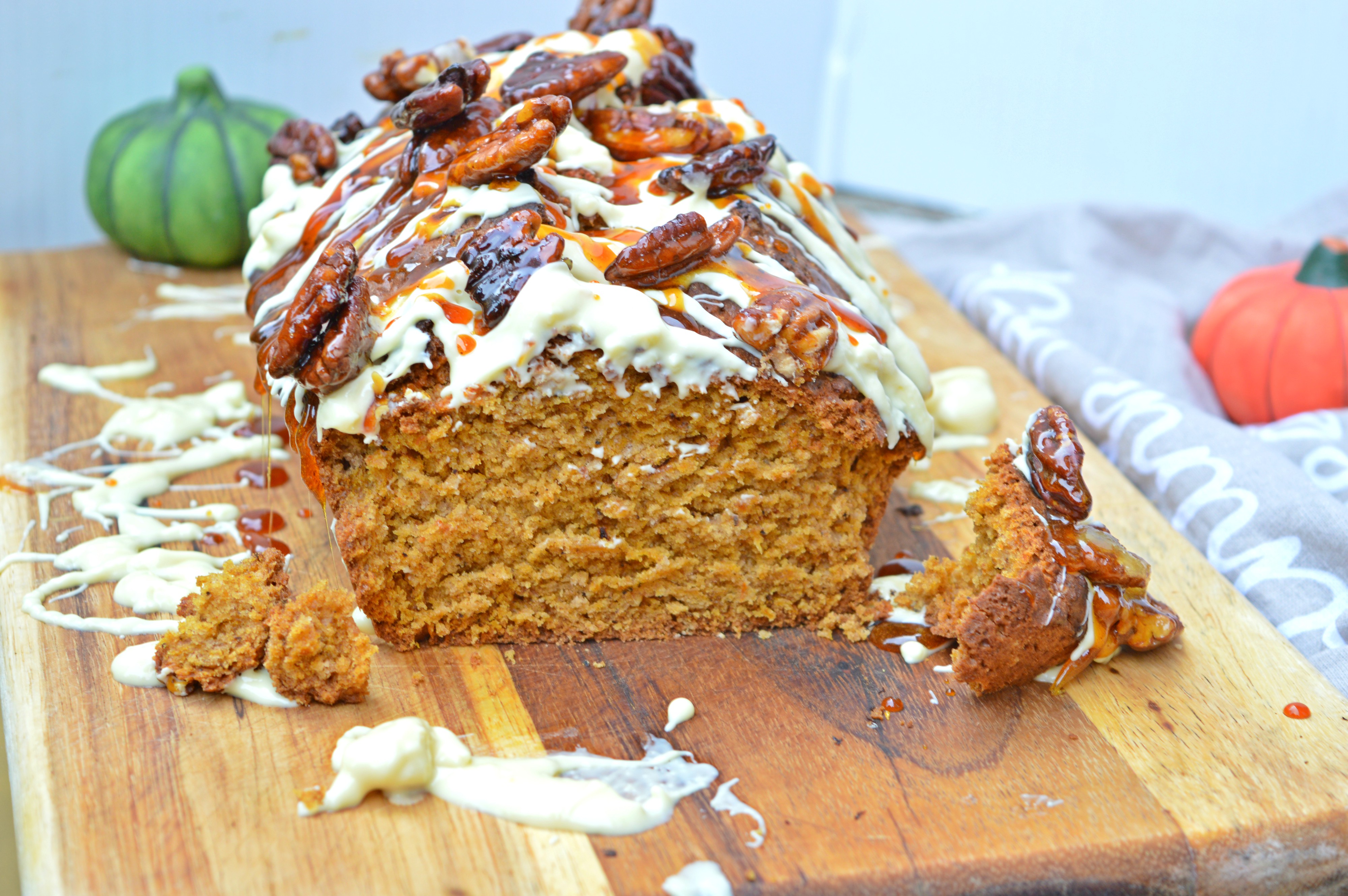 Here's how to make the White Chocolate & Caramelized Pecans Pumpkin Bread
White Chocolate & Caramelized Pecans Pumpkin Bread
Ingredients
300g pumpkin, pureed
400g flour
100g butter, melted
100g white chocolate, melted
10-15 pecans
100g brown sugar
1tsp baking powder
2eggs
1tbsp cinnamon
1tsp nutmeg
1tsp cloves
extra sugar for caramelizing
Instructions
Preheat the oven to 180°C.
In a bowl mix the dry ingredients together.
In a separate bowl mix all the wet ingredients.
Combine all the ingredients and pour the mixture in a greased loaf baking tray.
Bake in the oven for about 40 minutes or until ready.
To caramelize the nuts - simply combine them with some sugar and cook on the hob for a few minutes until the sugar's caramelized.
Drizzle the white chocolate on top (make sure it's been just melted) and add the caramelized pecans.
Enjoy!
https://mummysfastandeasy.com/2017/10/29/white-chocolate-caramelized-pecans-pumpkin-bread/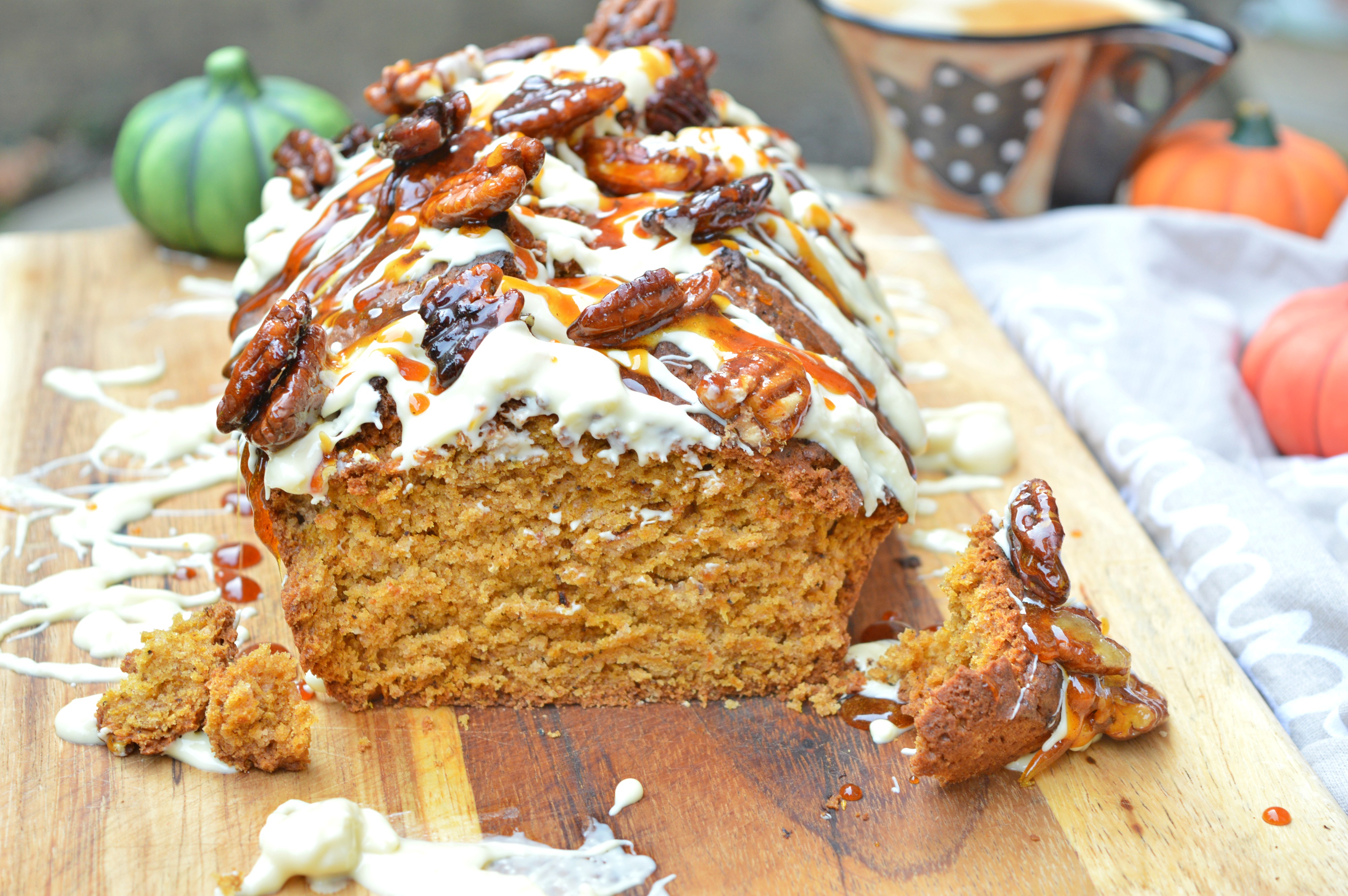 If you're about to carve some pumpkins( which you probably will or already have done) here are some recipes that you can try with all that pumpkin pulp left:
15 Simple & Tasty Pumpkin Recipes
We still have a couple of pumpkins to carve so it looks like we'll be having lots of pumpkin next week. 😀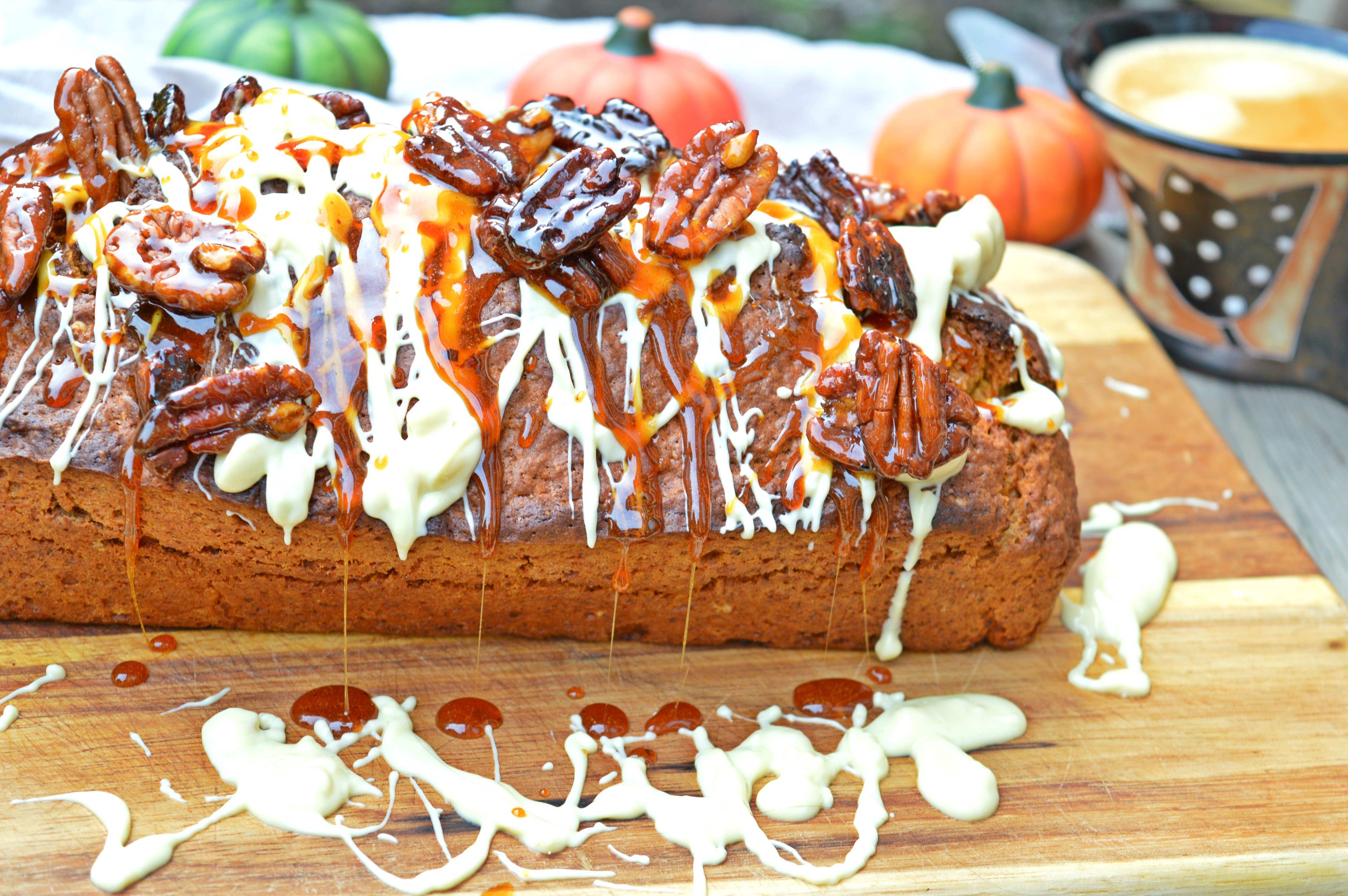 ---
I hope you guys love this recipe as much as we do. Stay tuned for more yummy recipes coming very soon. xx