Happy almost weekend! 🙂 Recipe of the day is Salmon & Fennel Casserole – very aromatic and simple dish, ready in just a few minutes!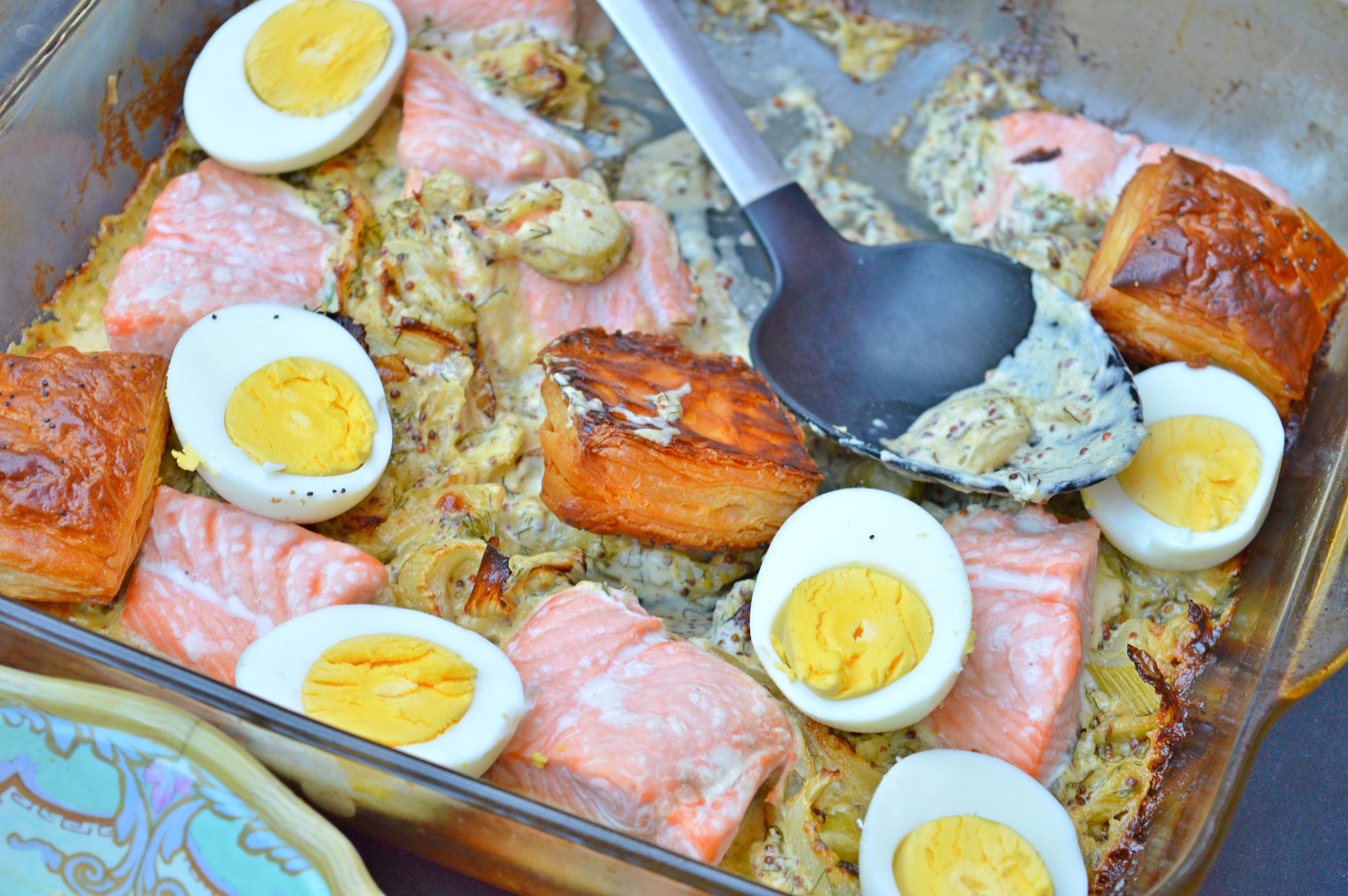 So I've got this old recipe book at home, I think it's actually one of the first ones I bought, and I love the recipes in it. I don't use it quite often but there are a few dishes that I've been making through the years which I really enjoy. This Salmon & Fennel Casserole is one of them. I don't follow the recipe completely, I've changed a few things, but I copied the main idea. 🙂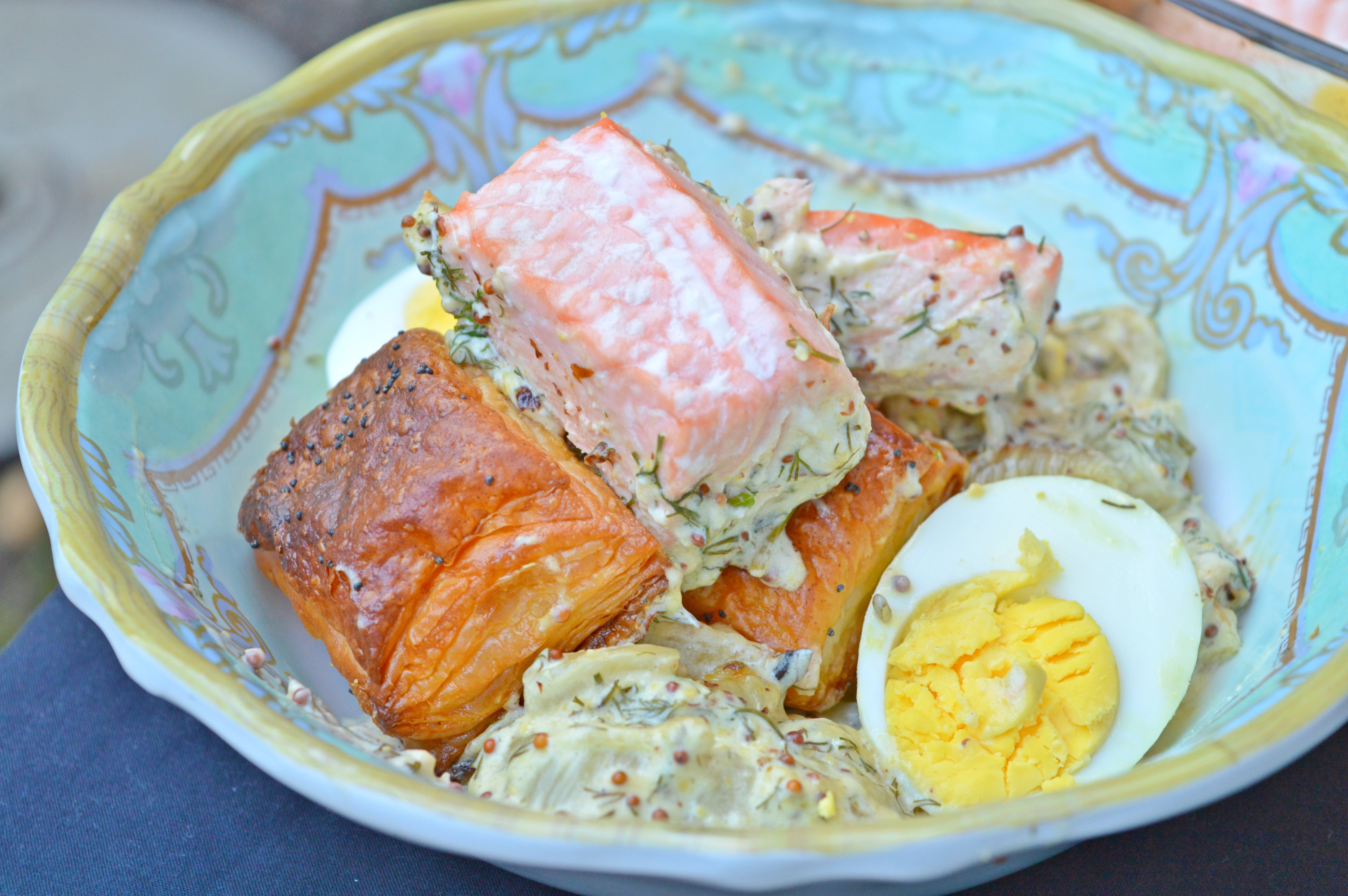 It's incredible what amazing recipes are out there, precisely in my old cook books. I haven't got that many but the ones I've got are super cool with lots of delicious recipes. And to be honest I haven't even tested half of them. But now I'm on a mission to revise these books and test some recipes I fancy. Hopefully they turn out good so I can share them here with you. 🙂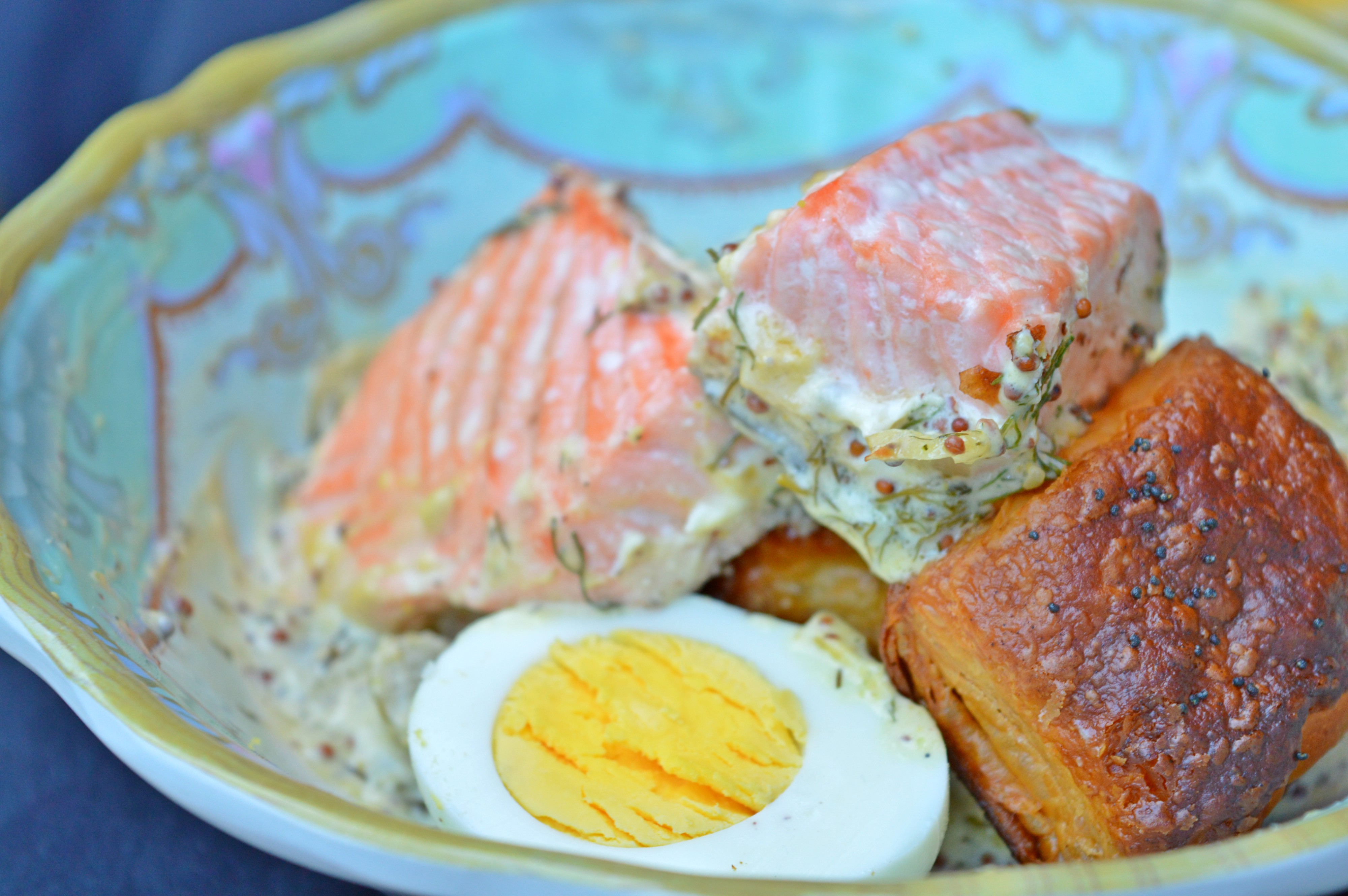 OK, the kids don't like this though, I admit. I usually bake their salmon parcels separately with just a few mild spices. I've never expected them to like this recipe anyway. It's a recipe for 'grown-ups'. Why? Because of the strong and super aromatic flavours of dill, grainy mustard and fennel. The salmon is baked in this creamy mixture and then a few more goodies are added to the casserole – some boiled eggs and pastry squares. These last two ingredients really complete the meal and make it so much tastier.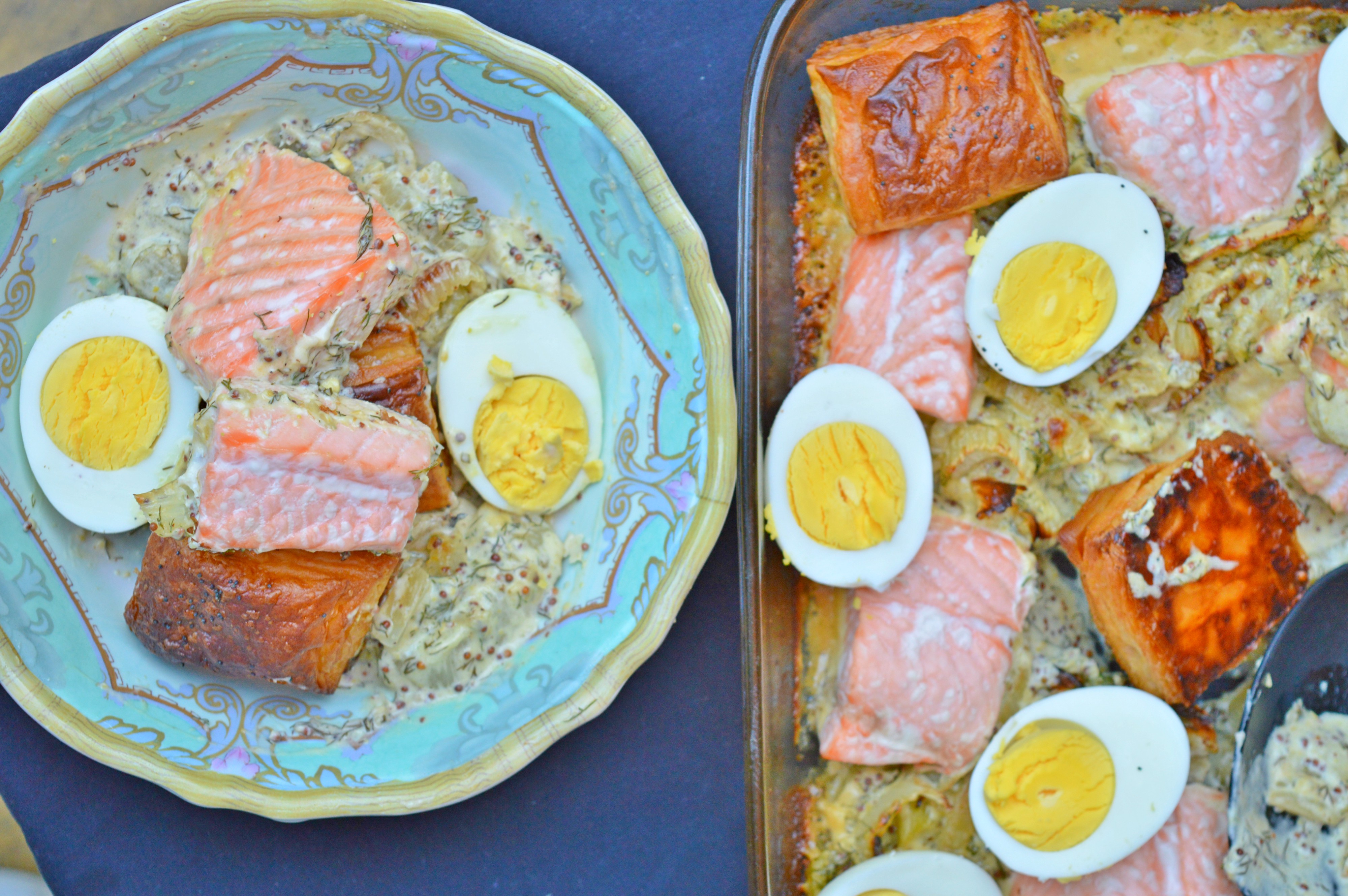 Here's how to make the Salmon & Fennel Casserole
Salmon & Fennel Casserole
Ingredients
600-700g salmon fillet, cut into big chunks
2 fennel bulbs, sliced
4 boiled eggs, sliced
150g filo pastry
2tbsp whole grain mustard
150ml double cream
2tbsp fresh dill, chopped
salt and pepper
olive oil
Instructions
Preheat the oven to 200°C.
Place the sliced fennel bulbs on a baking tray, drizzle with olive oil and season with salt.
Bake in the oven for about 15 minutes.
In a bowl, combine the mustard, double cream and dill. Pour over the fennel.
Arrange the salmon chunks and put back in the oven for about 20 minutes.
To make the filo pastry parcels, simply cut them into small squares and bake for about 7-8 minutes.
Arrange the halved boiled eggs and the pastry parcels in the casserole and serve.
Enjoy!
https://mummysfastandeasy.com/2017/10/19/salmon-fennel-casserole/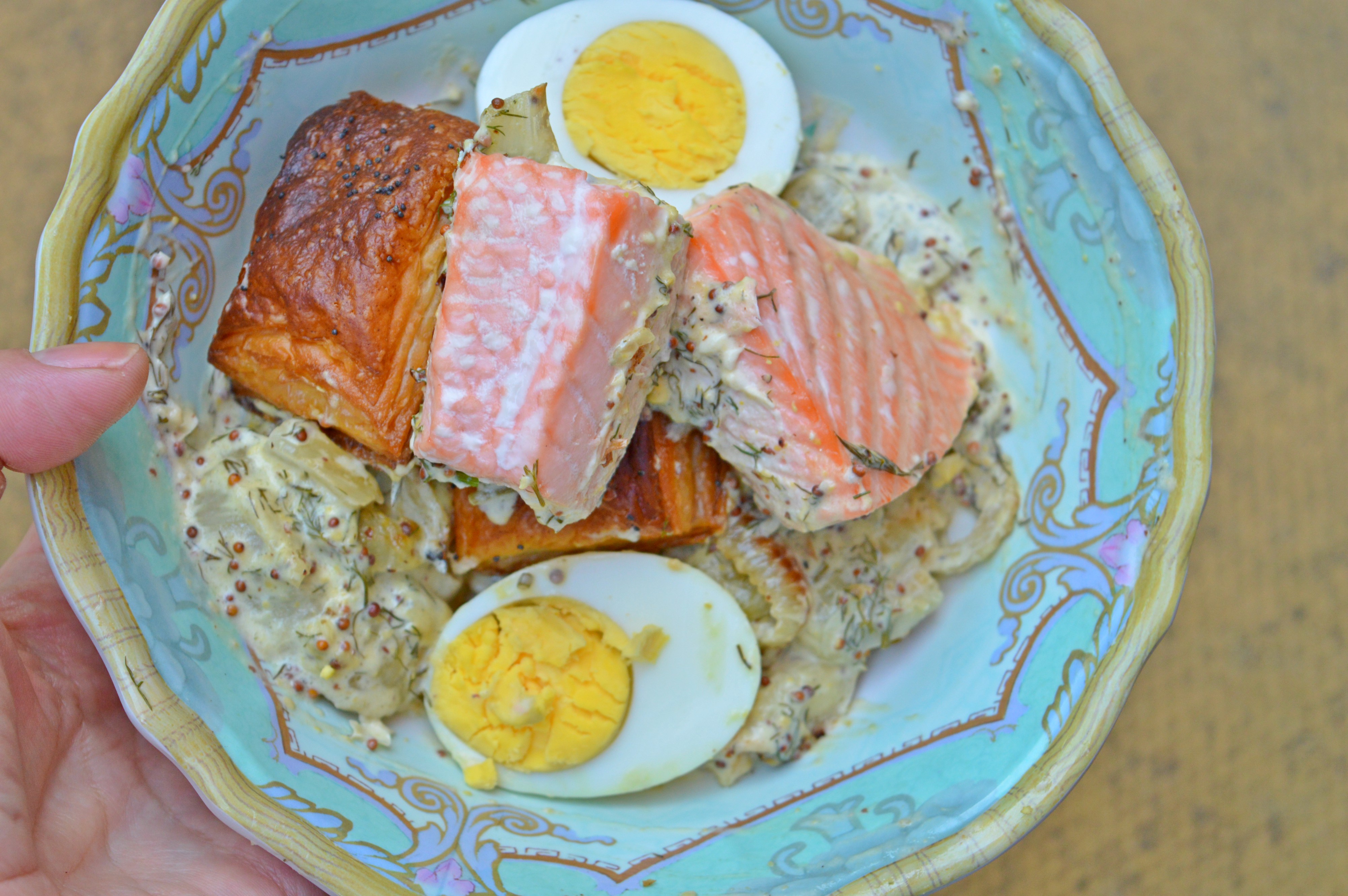 I hope you guys like this recipe and try it at home. Make sure to stay tuned for more quick, easy & tasty recipes coming soon. To do that, simply subscribe so you won't miss a recipe! xx