Happy Sunday all! If you're still debating on what to make for supper, here's an easy and tasty idea – Spaghetti Squash with lots of Parmesan Cheese and Mushrooms and Spinach!
For some reason, I've been using lots of Parmesan cheese lately. Not only I use it with pasta, but it seems I sprinkle it on almost everything. But it just tastes good, and it tastes good on almost everything 🙂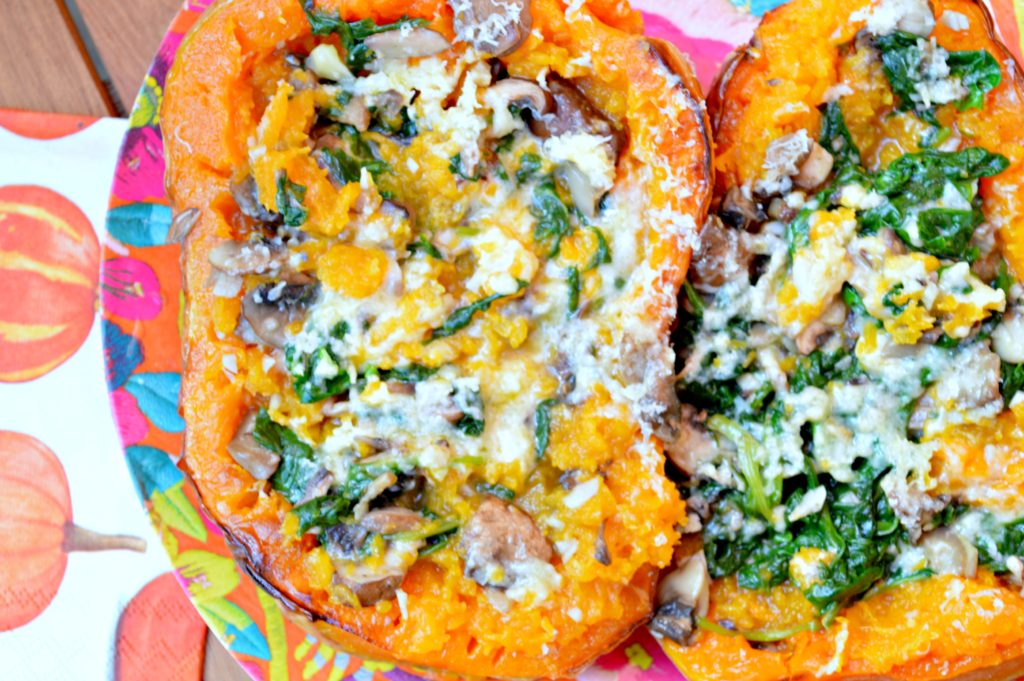 I hope you all had a great weekend and are getting ready to start the week ahead. Or not really 🙂 The point is you need delicious and heart-warming food to make you feel good and warm and to get you ready for Monday. This is where you're checking my daily recipe 🙂 Just joking. Seriously though, it's a quick recipe but will definitely warm you up and make you feel better, or at least not hungry 🙂
It's incredibly easy recipe, and really comforting. I was quite generous on the cheese, but this is how I like my spaghetti squash 🙂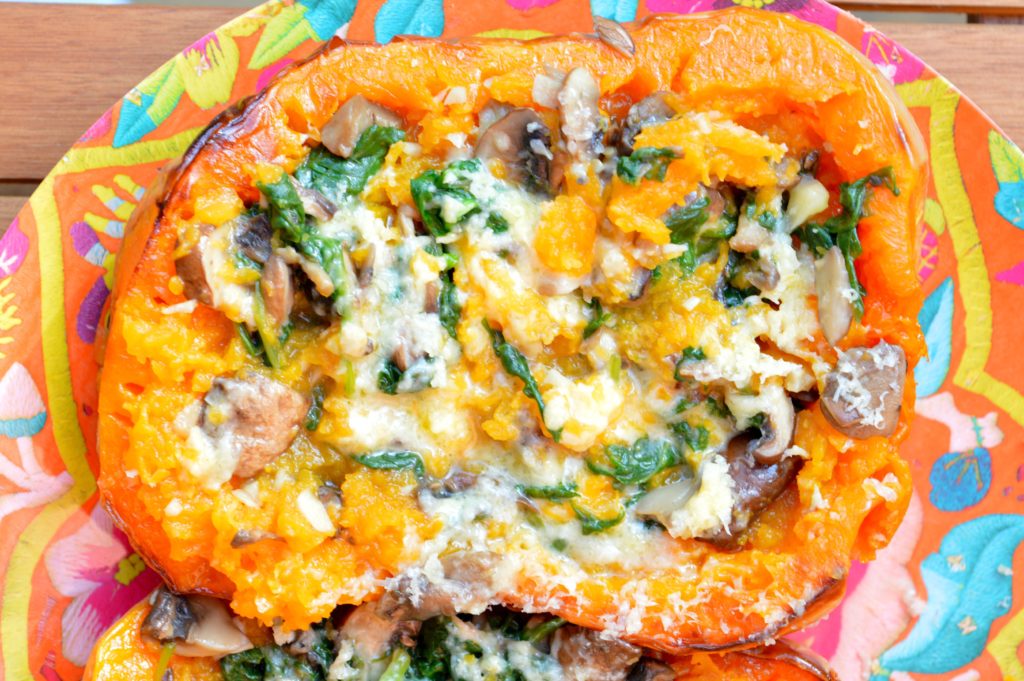 The easiest way to make them is to roast the squash and then kind of shred it with a fork so you get your 'spaghetti'. Skipping the shredding part and you'll make a beautiful stuffed squash. Not big of a difference really. It's just when making spaghetti squash, the actual squash is mixed with the other ingredients, whilst a stuffed squash, the ingredients are on top and you get the tasty squash hidden underneath. 🙂 Here you can check my Sautéed Mushrooms & Millet Stuffed Butternut Squash recipe. It is simple and delicious! And for those of you unfamiliar with millet, it's similar to quinoa and couscous, may be just a bit creamier consistency. And as quinoa, millet's got numerous health benefits so combined with a butternut squash it is a nutrient and healthy meal.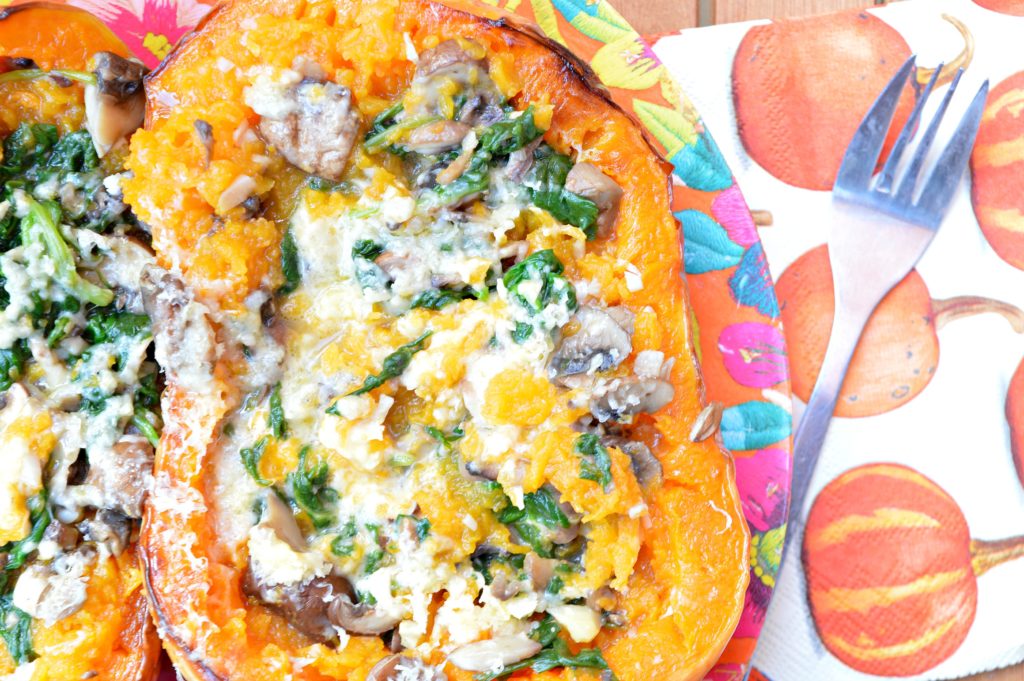 Here's what you need for the Spaghetti Squash.
Ingredients:
1 butternut squash
150g chestnut mushrooms, sliced
100g spinach
150g Parmesan cheese, grated
2 garlic cloves, crushed
olive oil
salt and pepper to taste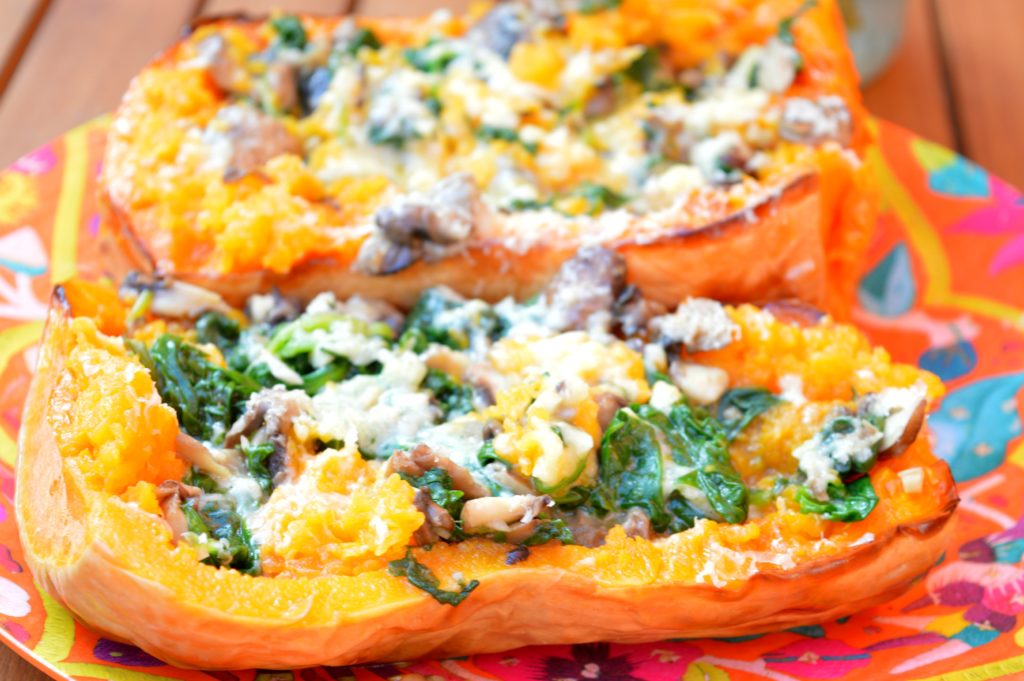 Preparation:
Preheat the oven to 200°C.
Wash the squash, cut in half and scoop out the seeds.
Drizzle with olive oil, season with salt and lay on a baking tray. Place in the oven for about 30 minutes or until the squash is cooked.
Start shredding the squash by using a fork.
Heat a pan with olive oil and gently sweat the spinach, mushrooms & garlic. Season with salt and pepper and leave for about 10 minutes. Remove from the hob.
Fill in the squashes, mixing gently all the ingredients. Add the Parmesan cheese on top and cook in the oven for another 5-10 minutes.
Enjoy!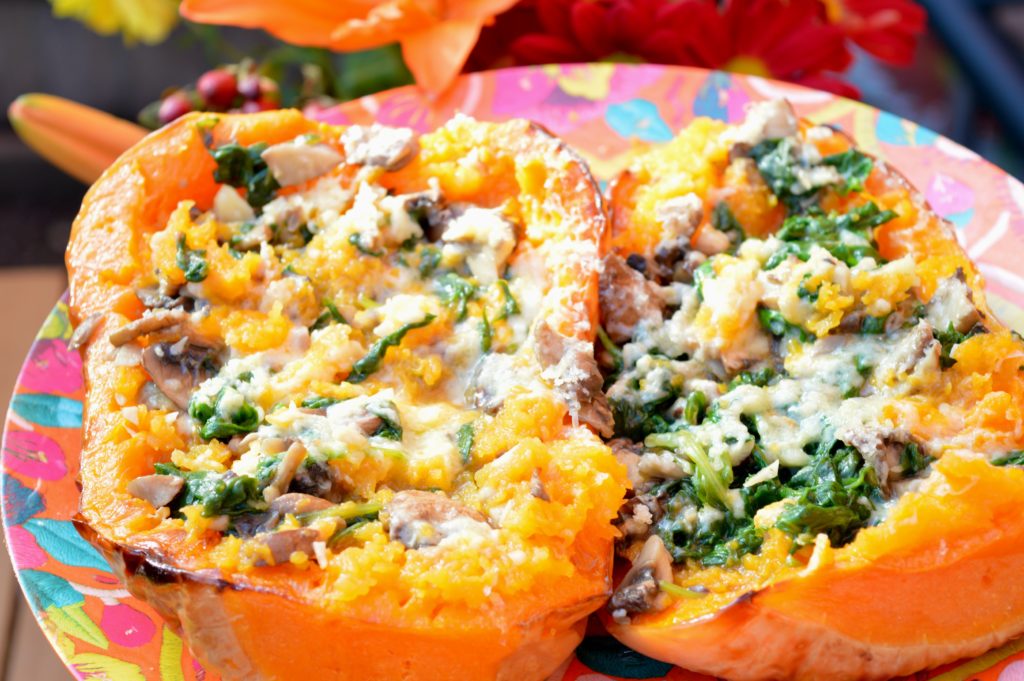 Tip: If you prefer, you can scoop out the spaghetti squash and serve them in a plate but I personally love them in their squash! Plus it looks more authentic, doesn't it? 🙂
Also make sure you eat these straight from the oven. They must be piping hot so you can fully enjoy them, and the melted cheese, of course. 🙂 You can always preheat them but it's not the same taste.