Happy Thursday guys! Today's recipe is Kale & Butternut Squash Quesadillas – grilled flour tortillas stuffed with sweet squash, kale, chickpeas and melted cheese. This was too delicious not to try so put your apron on and let's get cooking! I promise, it only takes a few minutes, it's super simple and even more tastier. 🙂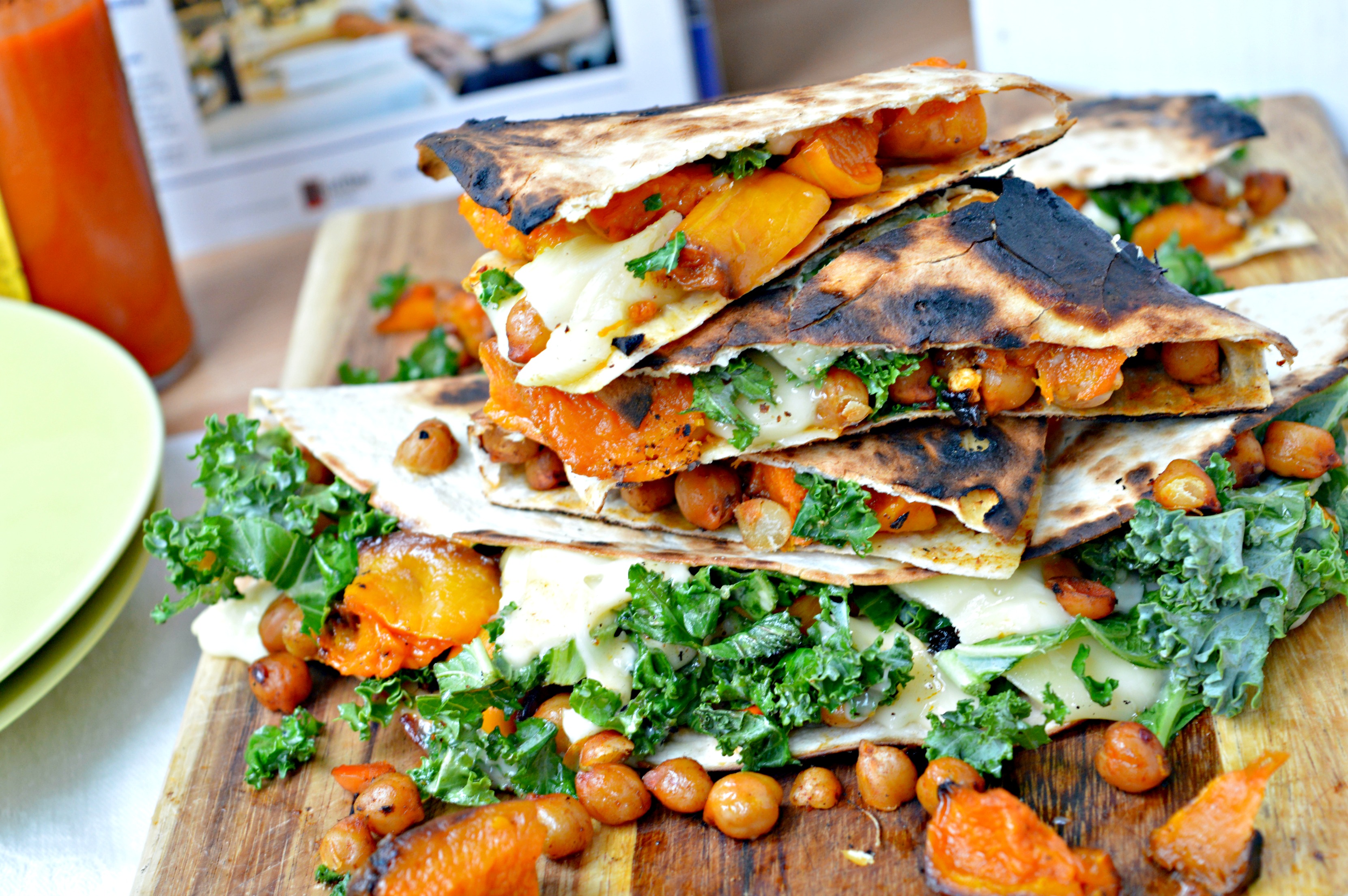 I genuinely love Mexican or Mexican – inspired food and I enjoy experimenting a lot. I've tried different versions of burritos and quesadillas (see the links below 🙂 ) but never tried this one in particular. The idea came when I had to get rid of some roasted butternut squash I had in the fridge so I came up with quesadillas. I added some kale, roasted chickpeas, which again were leftovers from another recipe, and lots of cheese. No need to mention I poured half a bottle of hot sauce on my quesadillas. 🙂 But hey, this was Mex – inspired, it should be hot. 🙂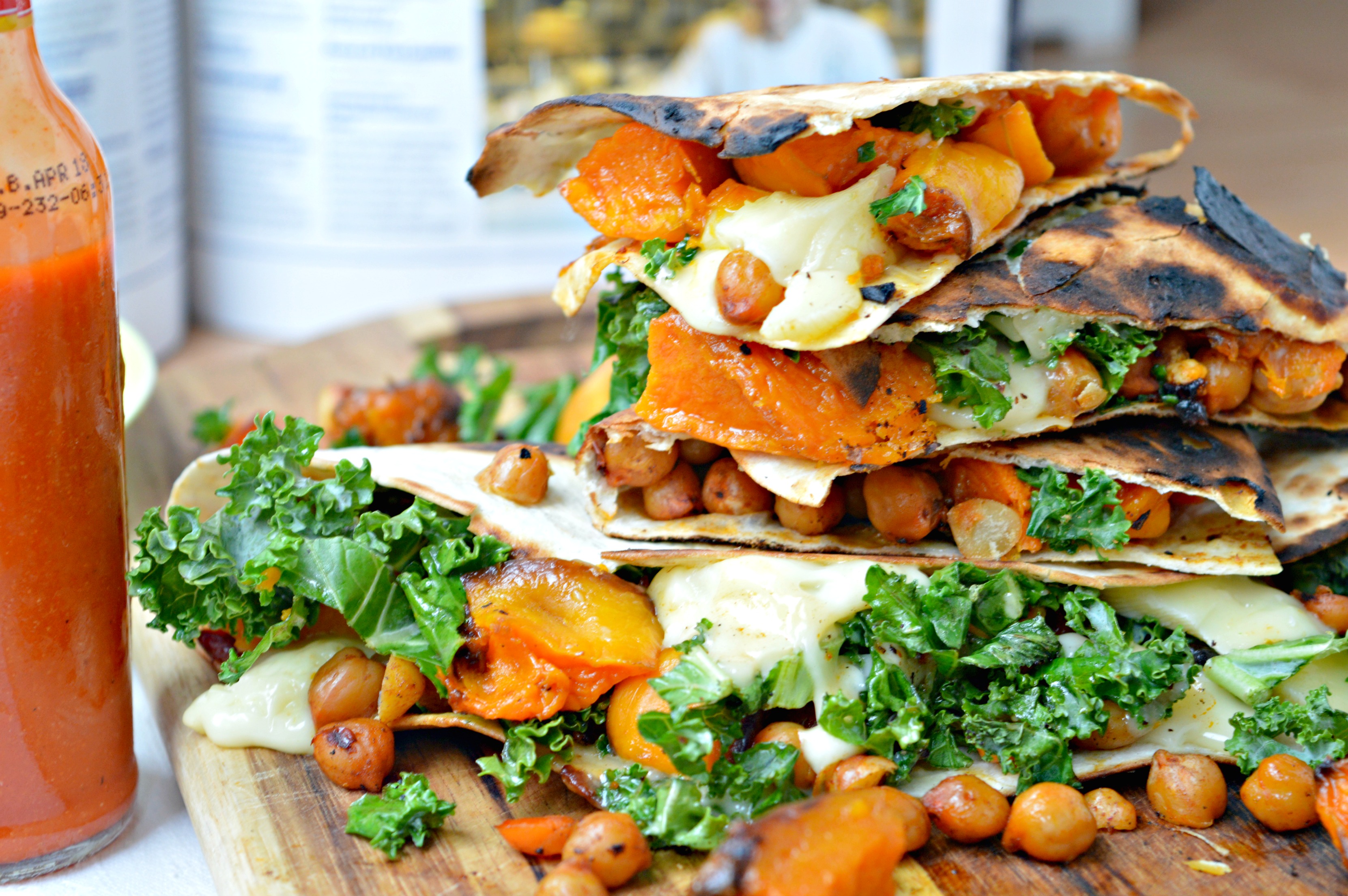 On a second thought, I think some sliced jalapenos would make these quesadillas even more appetizing. Unfortunately, I didn't have any but next time definitely throwing some in there. 🙂
The quesadillas are amazing for starter but these are so rich they can easily pass as a main. It really depends on how hungry you are. Serve them with some freshly made guacamole, sour cream and of course, hot sauce (for those of you who can handle the heat:-) ). And don't forget to massage the kale with a bit of olive oil before adding it to the quesadillas. 🙂
Here's what you need to make these Kale & Butternut Squash Quesadillas
Kale & Butternut Squash Quesadillas
Ingredients
300g butternut squash, roasted & cut in pieces
100g chickpeas, roasted
a handful of kale
100g mild Cheddar, grated
100g Mozzarella, grated
4-5 flour tortillas
Instructions
Heat a griddle pan and place the tortilla. On half of the tortilla arrange some of the squash, chickpeas & kale and sprinkle some cheese on top. Make sure it's not too much so you can close the wrap.
Gently close the wrap and press down. Cook for about 5 minutes, turn on the other side for a few minutes and remove from the pan.
Repeat with the rest of the tortillas.
Serve with some fresh guacamole, sour cream and/or hot sauce.
https://mummysfastandeasy.com/2017/06/08/kale-butternut-squash-quesadillas/
Here are some more Mexican – inspired recipes:
Meatless Monday: Black Bean, Roasted Peppers & Feta Cheese Quesadillas
Meatless Monday: Black Eyed Bean Vegetarian Burrito
Turkey & Spinach Enchiladas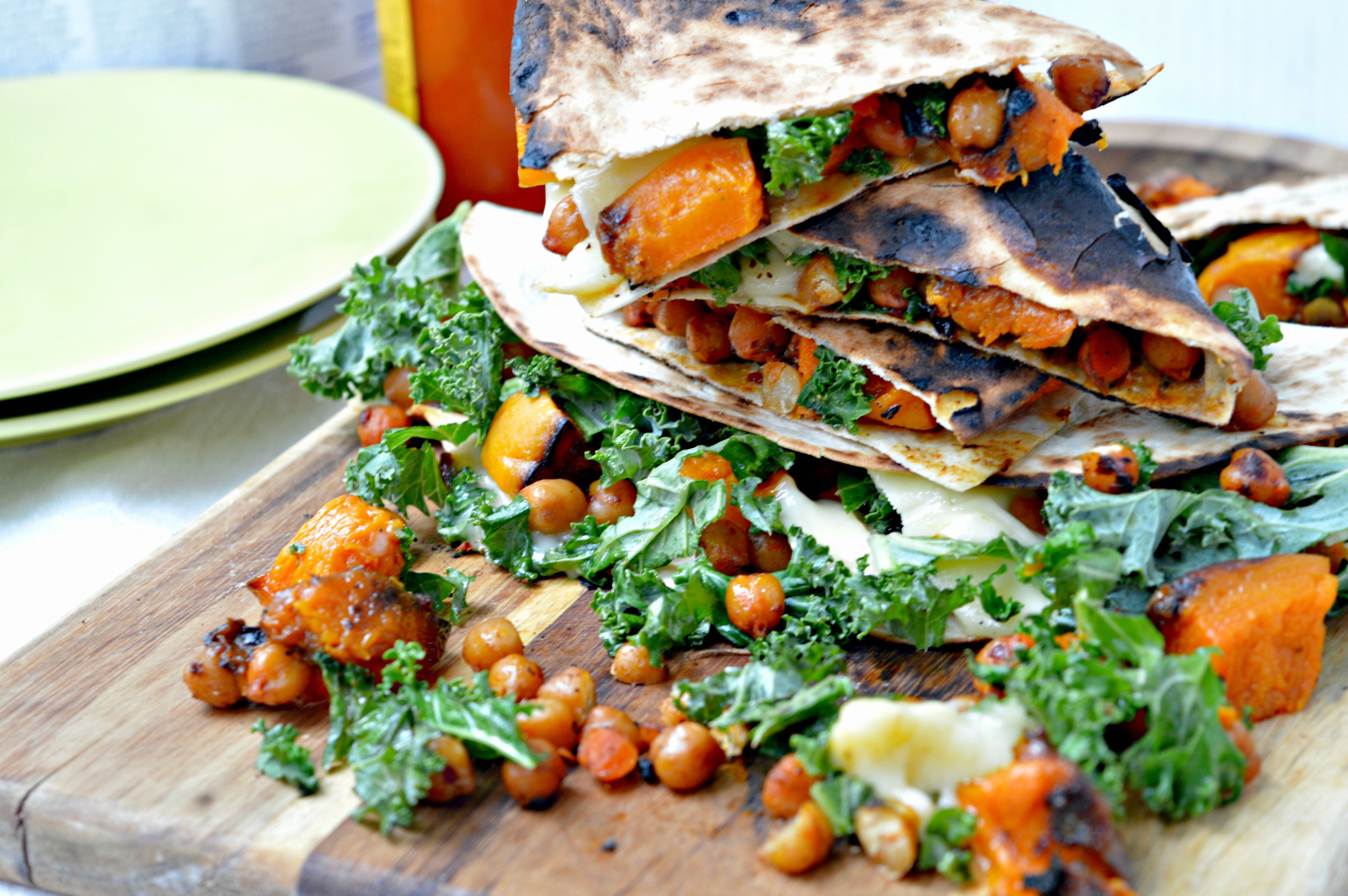 I hope you guys like this recipe. Stay tuned for more quick, easy and delicious recipes coming soon. xx