Happy Friday guys! Today's recipe is Pumpkin & Chicken Casserole – seriously delicious and comforting one pot meal, just add some freshly baked (lots of it!) bread to it and serve it hot for a tasty heart-warming meal! 🙂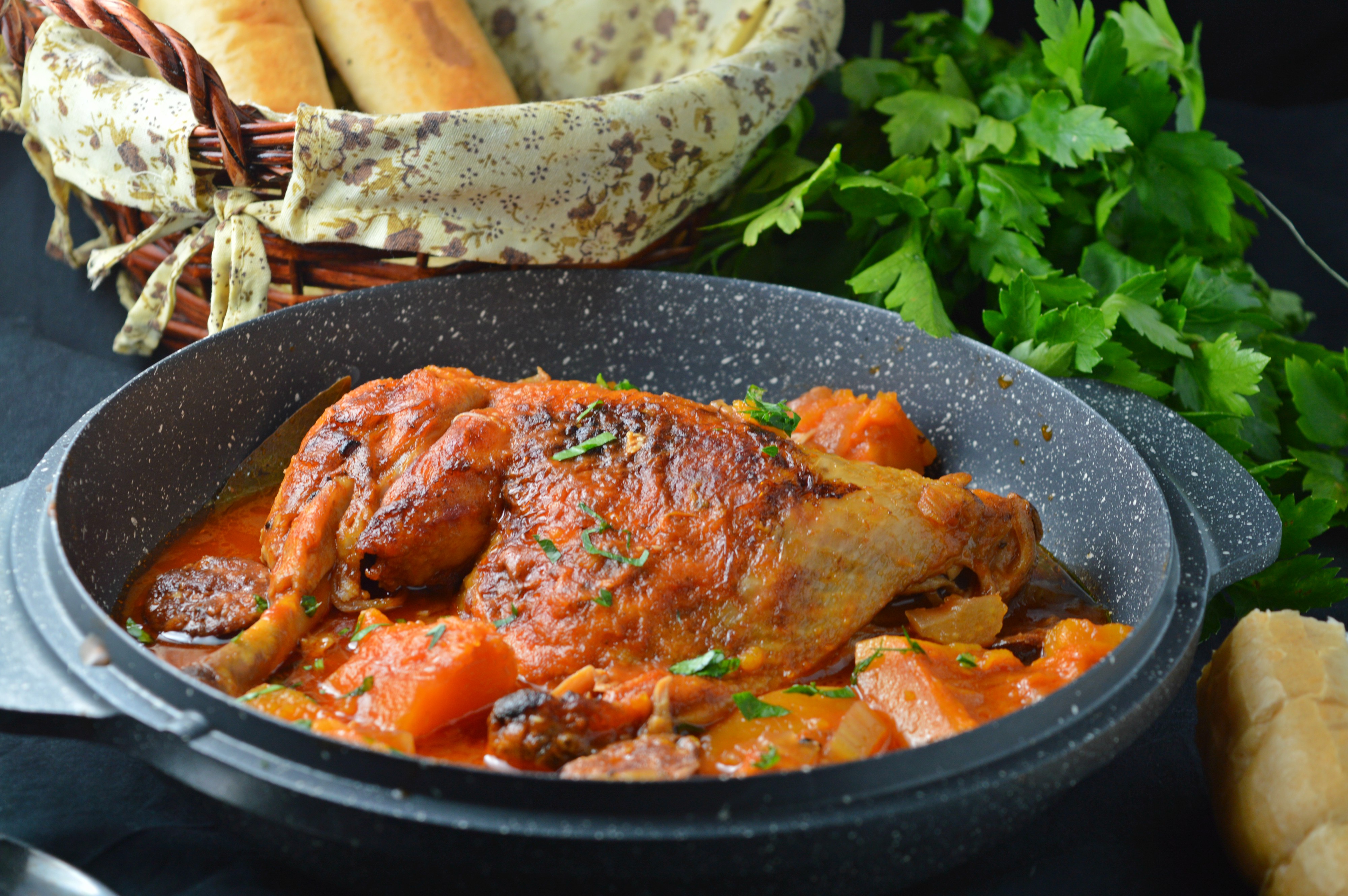 Honestly, I had about half of a bread loaf with this casserole and if I didn't stop myself I would probably have had the other half too. 🙂 This Pumpkin & Chicken Casserole is just screaming for a delicious bread to soak the tasty juices with. I don't have such meals very often but now the weather has changed, I'm sure this will change too. I seriously need to improve my self-control skills and be able to stop after having a generous amount though. 🙂 But try to look through my point of view – you get home after a long and exhausting day, haven't had any food all day, froze yourself off at the park and finally  put the kids to bed and…see a pot with hot Pumpkin & Chicken Casserole and freshly baked bread! 🙂 How could you not eat half a loaf of bread with it. 🙂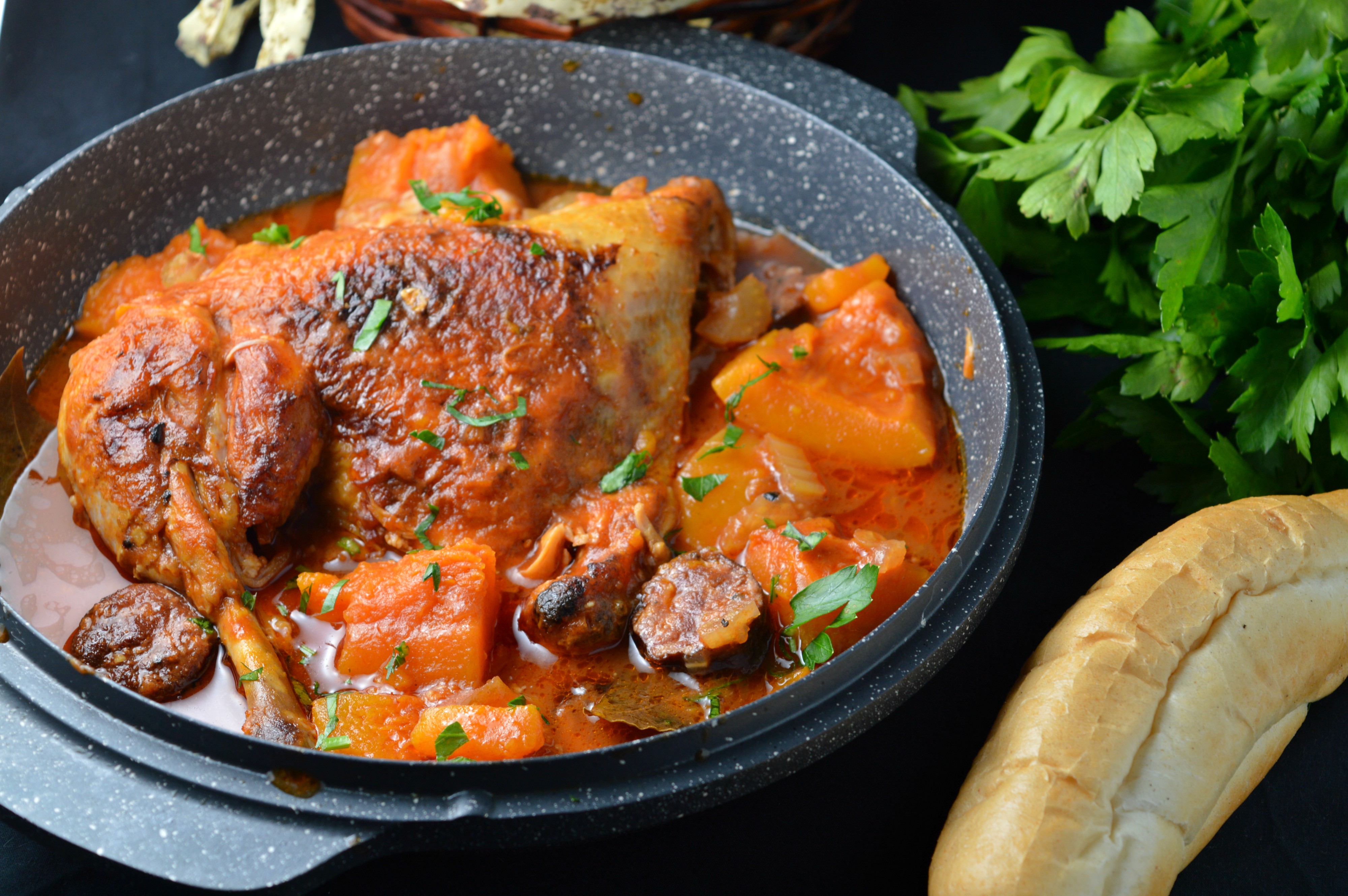 Well, this was my story (or something like that) about what happened with the Pumpkin & Chicken casserole. Everyone really enjoyed it too! No leftovers and no bread left either. 🙂
So what's in the casserole – Pumpkin, chicken, celery, Chorizo or any other red sausage and spices. As you can see – really simple, just a few ingredients but the taste is incredible. I can honestly say this has become one of our family's favourite 'Winter Warmer' recipes, for sure.

Here's how to make the Pumpkin & Chicken Casserole
Pumpkin & Chicken Casserole
Ingredients
3-4 chicken legs ( or you can get a whole chicken and cut it in 4)
1 small pumpkin, deseeded and cut into chunks
1 Chorizo/red sausage, sliced
2 celery stalks, chopped
1 chicken stock cube
1 onion, chopped
3 garlic cloves, crushed
3 bay leaves
4-5 black peppercorns
1tsp allspice
1tbsp paprika
salt to taste
olive oil
Instructions
Preheat the oven to 180°C.
Heat a pan with some olive oil and cook the chicken for about 7-8 minutes on each side. Remove it from the pot and add the onion, garlic, celery, sausage, pumpkin and spices. Gently sweat for about 10 minutes.
Add the chicken stock and about a pint of water. Put back the chicken legs. Cover and cook for about 20 minutes. If necessary, add more water.
Place in the oven for an hour.
Serve with freshly baked bread, if possible.
Enjoy!
https://mummysfastandeasy.com/2017/10/06/pumpkin-chicken-casserole/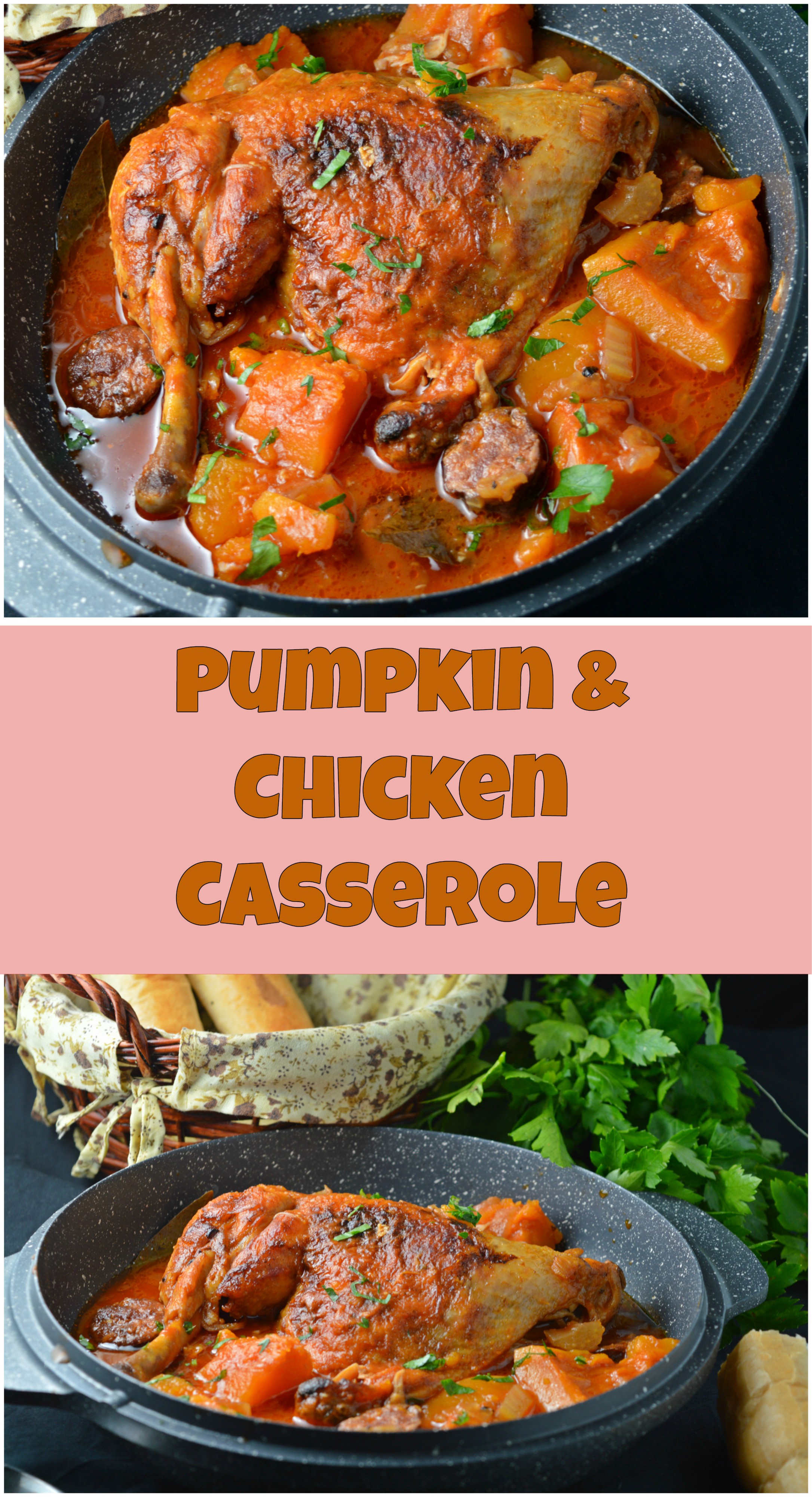 I hope you guys love this recipe as much as we did. Stay tuned for more quick, easy & tasty recipes coming very soon! Meanwhile, I hope you have an amazing weekend with lots of tasty food! xx