Happy Wednesday guys! Recipe of the day is Double Halloumi Burger with Tapenade –  a real meat free treat that even the meat lovers can't resist! 🙂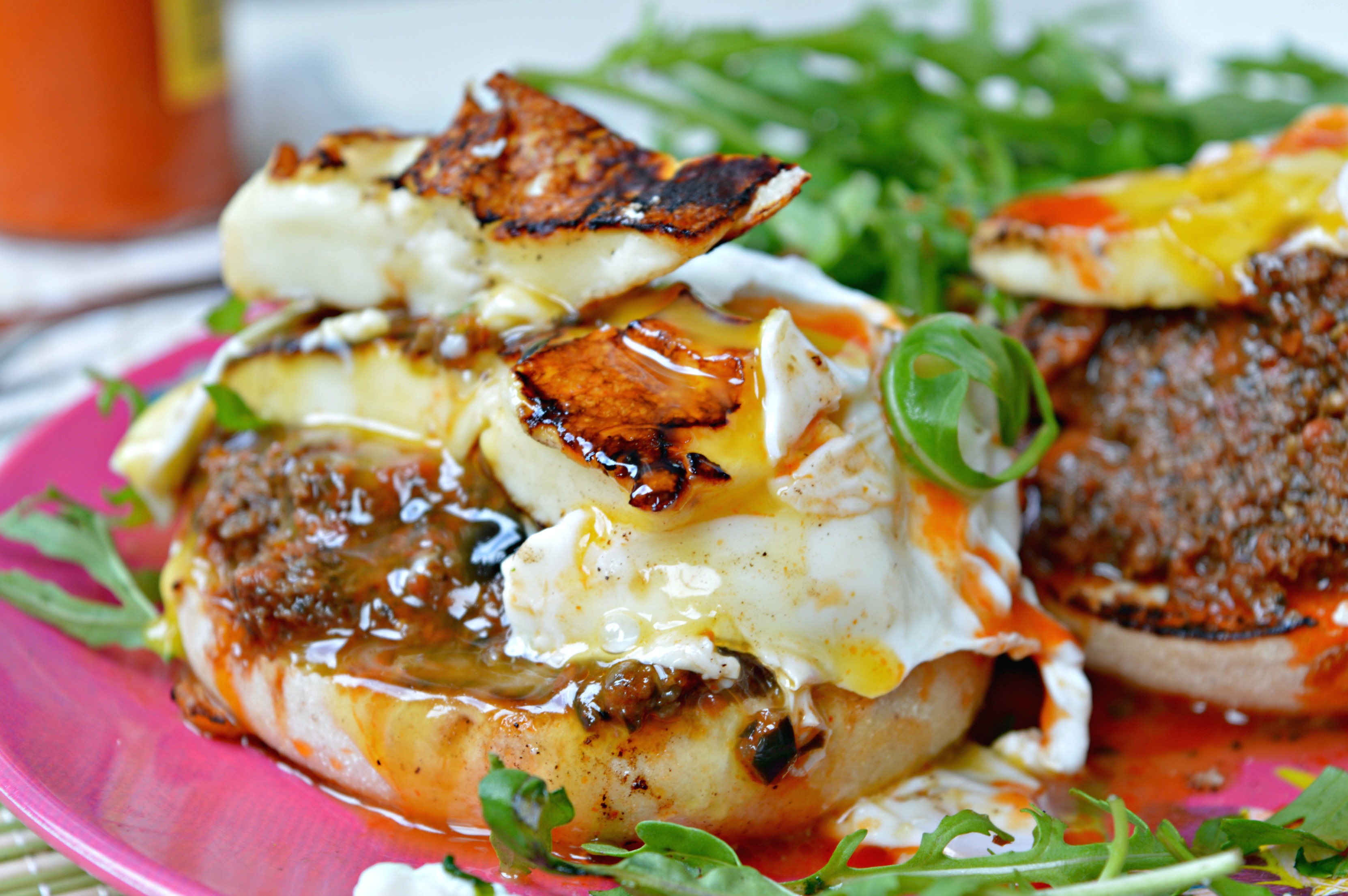 The original idea was a bit different to be honest, but I think it actually got better this way. Much better. 🙂 I topped this massive burgers/open sandwiches up with a poached egg and a splash of spicy sauce. There are chunky grilled halloumi pieces underneath the egg and a few on top, hence the double halloumi burger or should I say open sandwich? A bit confused about what to call it. 🙂 I used toasted english muffins and loads of tapenade.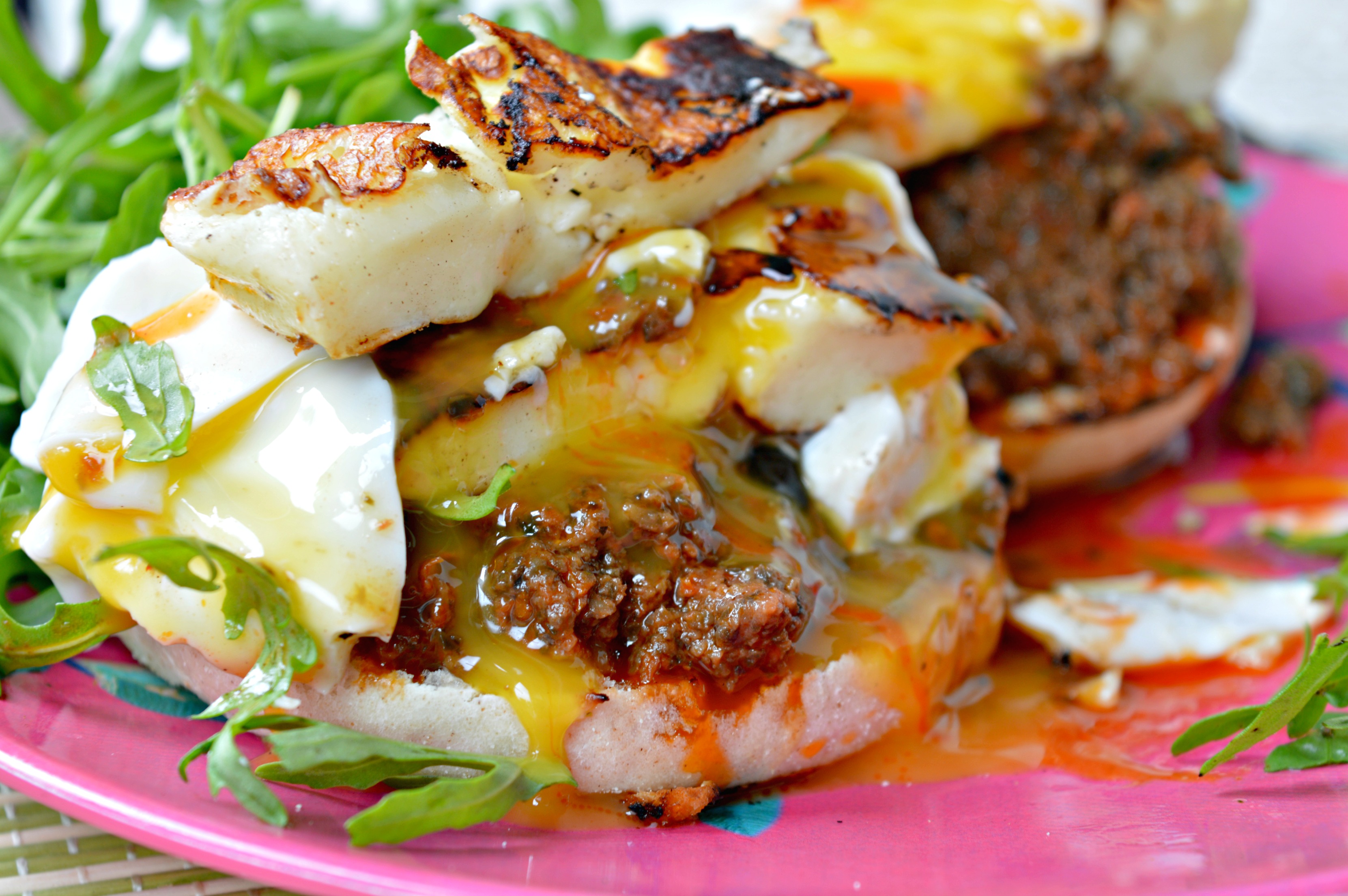 Let me tell you about the tapenade..I only recently discovered it but I feel I can't get enough of it. It is so delicious that I generously add it to everything – salads, sandwiches, pasta. I really enjoy it as a dip too with some homemade pita chips. To make the tapenade I also added a few sun-dried tomatoes. They really make a big difference (in my opinion) and make it all taste even more delicious. Tapenade is great for tapas and nibbles which I've been obsessing recently, especially during the weekends. But seriously, what's not to love about tapas? Lots of small and cute looking dishes to choose from. Thus, there'll be a little something for everyone, plus you get to enjoy a few different dishes. That's the food lover in me talking. 🙂 My family love this kind of dinner too so everything is working fine! 🙂 And most of the time there are no leftovers at all. 🙂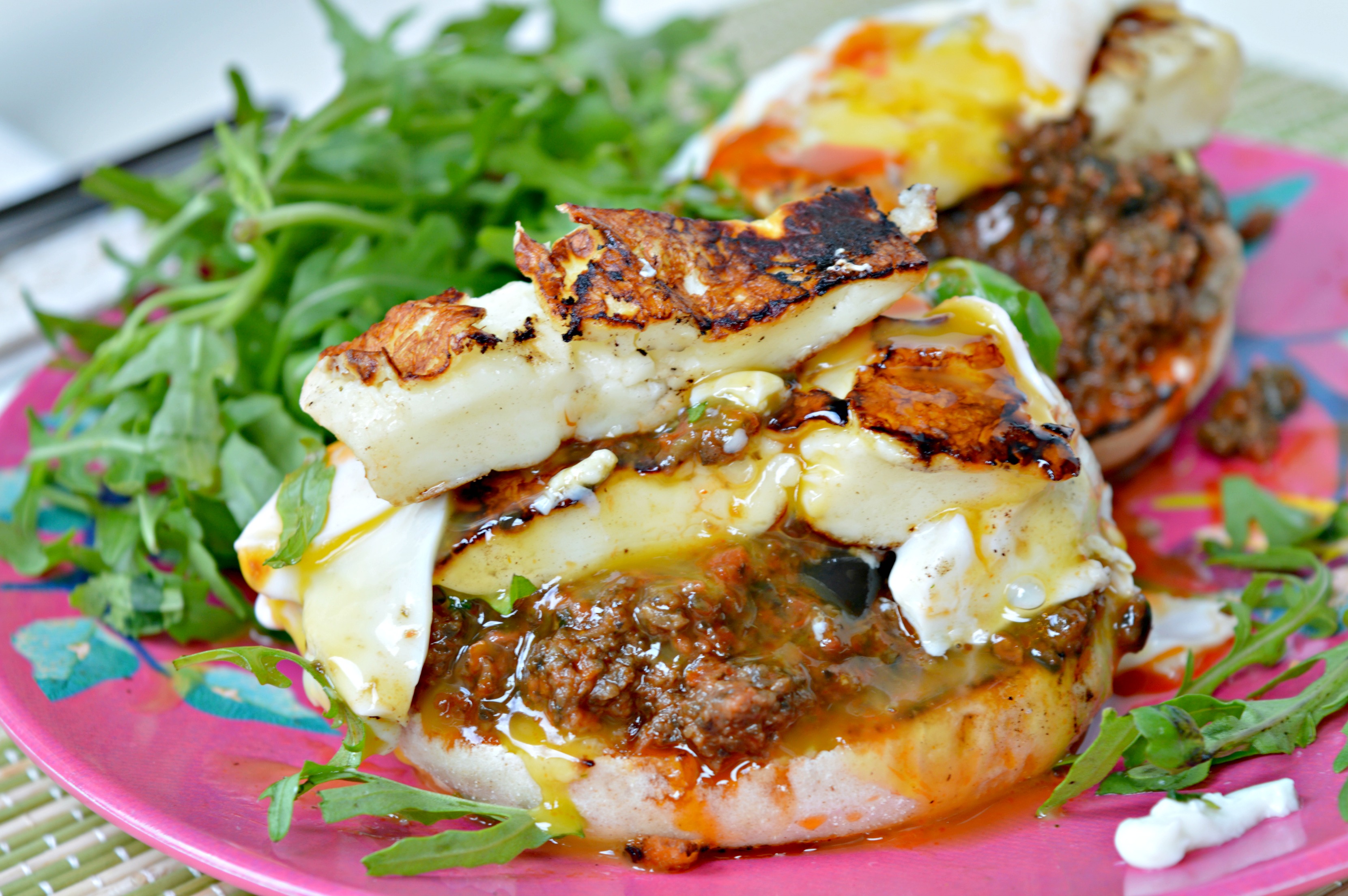 Here's how to make the Double Halloumi Burger with Tapenade
Double Halloumi Burger with Tapenade
Ingredients
2 English Muffins, cut in halves and toasted
200g halloumi, cut in pieces and grilled
2 eggs, poached
rocket salad for serving, if wished
For the tapenade:
150g black olives, pitted
1 garlic clove, crushed
1-2 anchovy fillets
3-4 sun-dried tomatoes
1tbsp capers
1tbsp lemon juice
1tbsp olive oil
salt and pepper
Instructions
To make the tapenade, simply blitz the ingredients in a food processor till a desired consistency - chunky or smooth.
To build the burger, start with the muffin bottom, add a generous amount of the tapenade, a few pieces of the grilled halloumi cheese and finish it off with a poached egg. If wished, close the burger with the other half of the muffin. Repeat with the other english muffin.
Serve with some rocket salad on a side and some spicy sauce.
https://mummysfastandeasy.com/2017/05/24/double-halloumi-burger-tapenade/
These Double Halloumi Burgers with Tapenade are perfect for brunch. I really can see myself this weekend enjoying one of these beauties topped up with lots of hot sauce. 🙂
I hope you like this recipe. Stay tuned for more coming soon. xx And don't forget to use your sun lotion. 🙂 I still ca't believe we've got this amazing weather this week so let's enjoy it until it lasts. 🙂 xx